Posted November 28, 2012 in Bike Racks, Projects
Some people call them Modern Design Bike Racks, Techno Bike Racks, Artistic Bike Racks, Architecturally Appealing Bike Racks, Natural Bike Racks, Cool Looking Bike Racks, Hot Looking Bike Racks, Assume Bike Racks, and The Best Bike Rack Ever!!! At JLMC, Inc., we just call them Elliptical Bike Racks.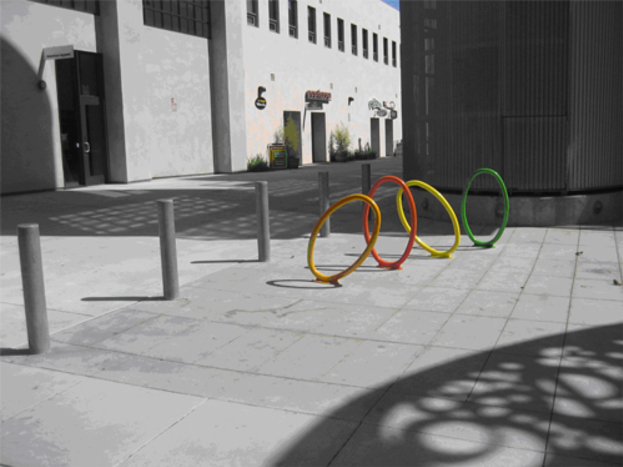 The City of Claremont is turning into a bike-friendly city. They just purchased 112 units in a variety of colors to install in and around the city.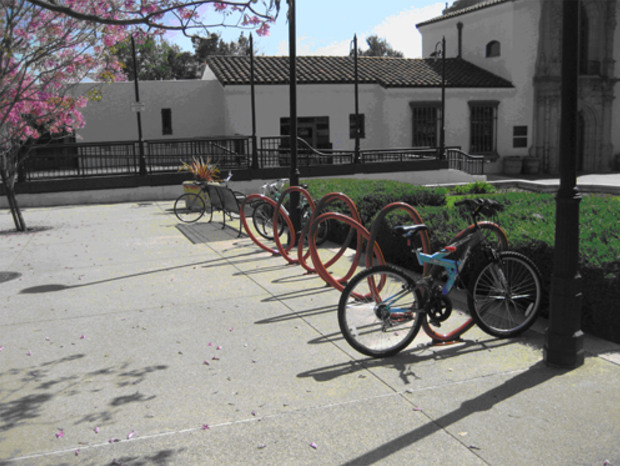 If your city is thinking green and trying to get your residents out of cars and biking more, you should consider these spectacular looking Bike Racks. They are perfect for your storefronts, apartments, business complex, mall, or city.

They come in a variety of shapes and powder-coated colors to fit your needs. A rugged 1¼  Sch. 40 pipe on a rigid ¼" thick base with an easy four-bolt installation. Anyone can install our elliptical bike rack in about 15 to 20 minutes per rack.
These bike racks definitely improve the looks of any street or sidewalk.
If you have a project like this, please contact JLMC, Inc., and we will have one of our sales representatives contact you within 24 hours. Call us at 909-947-2980 or fill out our online contact form for more information.